SALT LAKE CITY — Fall weather might have descended in Utah late, but the flu virus is striking early.
"Influenza is notoriously tricky. It's a hard one for us to predict. It can sort of show up at any point during the respiratory season. But it looks like it's starting to trickle in a little bit earlier this year than it has in years past," said Dr. Per Gesteland, with University of Utah Health and Primary Children's Hospital.
From Oct. 27 to Nov. 2, the first week for which Utah has posted flu surveillance for the season, there have been 13 flu-related hospitalizations in the state.
But another virus, the parainfluenza virus, has been causing concerns in the Intermountain Healthcare system.
So far this fall, Gesteland says the hospitals and clinics have been seeing a lot of cases of parainfluenza. While many of its symptoms are similar to the cold and flu, parainfluenza can cause croup in young children and babies, and viral infections in adults, he said. The flu vaccine does not target it.
"That's one we've expected to see. That tends to come every odd year in the fall, that specific virus," he said.
Washington, Salt Lake, Morgan and Davis counties are all seeing high numbers of parainfluenza cases, according to the Intermountain disease-tracking website GermWatch, with about 20 cases confirmed statewide for the week of Nov. 1.
The ways to protect yourself and others from parainfluenza and the flu are the same, Gesteland said, including careful handwashing, using tissues to cover coughs and taking other routine precautions.
But he says parents should also stay informed about parainfluenza and know what croup can look like, and the breathing problems associated with it.
Rebecca Ward, health educator with the Utah Department of Health, says Utah overall hasn't seen many hospitalized cases of the flu yet this season. But it's hard to tell what the rest of the year will look like — meaning it's important for everyone to protect themselves.
It's not too late to get vaccinated, she said.
Most of the cases tracked by Intermountain's system so far have been type A, with some cases of type B, according to Gesteland. There are many different strains of type A influenza, the Centers for Disease Control and Prevention says, with new ones emerging.
That's why important to receive immunization, Ward said.
"A lot of times you'll see a different type A that might cause severe sickness and severe influenza symptoms. So that's why we tell people to get vaccinated every year, because again, vaccine strains can change from one year to the next, and a particular type A or type B might be a little more severe in some cases," Ward explained.
"So we want people to understand that it's not just a cold, it's not just symptoms that typically go away on their own. You can get very, very sick, and become so sick that you would need to be hospitalized," she said.
According to the CDC, Utah, among a few other Western states, ranks in the bottom 10 for adult flu vaccination, the Associated Press said.
Though the CDC has recommended vaccination by the end of October, it's not too late.
"If you get vaccinated, even into the end of the season — which we look at influenza until the end of May — it's never too late. It's just that the earlier you can get vaccinated, the more protection you're going to have early on," Ward said.
Gesteland agreed.
"While it does take a couple weeks to get your antibody levels up to protected levels, if flu season starts now, it's going to last for many weeks. And it's definitely not too late to get your flu shot."
And the nasal vaccine, which had been removed from recommended flu immunizations for two years, was again OKed last year by the CDC, the Center for Infectious Disease Research and Policy said.
The Salt Lake County Health Department has seen a nearly 10% rise in numbers of those receiving the flu vaccine at county clinics since last flu season, with 5,200 compared to about 4,700 by the same time last year, said department spokesman Nicholas Rupp. He says he hopes that rise is consistent across private clinics.
While it's too soon to know how severe this flu season will be, health officials recommend taking precautions to keep yourself and others healthy.
"The best thing people can do, if they think they have been exposed to an influenza virus, is contact their health care provider, and do so before you go to a hospital or to a clinic. Let them know you think you've been exposed. If you're sitting in a waiting room and you're feverish and coughing, then there's a possibility of spreading that influenza to other people in the waiting room," Ward said.
After a patient is tested, they may receive an antiviral medication if the timing is right.
She also urged those who become infected with the flu to fight the urge to go to work sick.
"If you have been exposed to influenza, it's a really good idea to stay at home and try not to work or be out in the crowds, because it is spread by coughing and sneezing and respiratory drops," Ward said.
Gesteland says he has seen numerous instances of healthy kids being severely hurt or killed by influenza.
"Of the pathogens out there that we have vaccines for, influenza is one of the most deadly for children. Even healthy children, but certainly children with high risk conditions, lung disease, immunodeficiency, heart disease, etc," he said.
He encourages parents to get immunizations as quickly as possible for their children and themselves, to be thoughtful about sending sick children back to school or going to work sick, and to avoid spreading the serious illness to the community.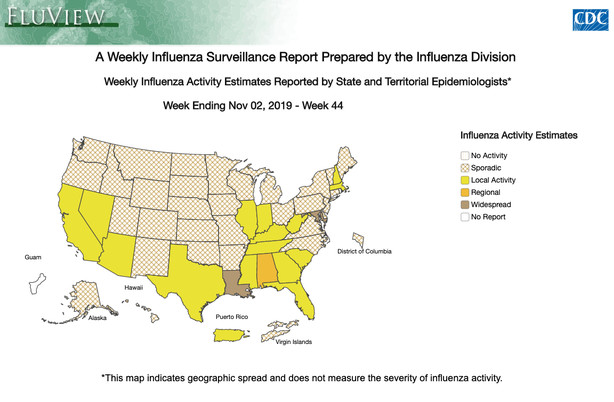 Those interested in keeping up on viruses in Utah can also visit GermWatch Utah, an Intermountain website that tracks disease activity through the Intermountain system. The site summarizes viral diagnostic testing and turns it into epidemic curves and maps of pathogen activity, Gesteland said.
The state health department also shares weekly flu surveillance updates.
To find a vaccination clinic near you, visit Vaccinefinder.org.
×
Photos
Related Stories